A Tribute to GPJoe
The GPJoe that we knew -- husband, brother, friend, joker, champion eater, friend to dogs and cats -- lived a pretty darn good life from Dec. 6, 1953 to Oct. 30, 2001. Cancer got him.
It has taken over five years to be able to be able to get together and create a tribute page for him. It's like he moved to Australia in the middle of the night and doesn't have a phone number. We've been keeping this website active, updating it when necessary, but leaving it pretty much the way Joe created it.
Joe was a master mechanic, computer guru, animal leader and a leader for people too.
He could eat more than anyone else at one sitting, and faster too. Many of us tried to keep up with him but fell by the wayside. And after a buffet he could still crawl under the Jeep and change the transmission.
He liked old military rifles such as the 1903 Springfield, M-1 Garand and M-1 Carbine. He could put a small group at a couple hundred yards with iron sights, and did some handloading too. He never liked the newfangled 'Mattel 16', as he called it. He was going to try the British .303 Enfield but the illness robbed him of that fun.
Pickups and 4WDs were his favorite everyday vehicles. In his younger years he had some good cars with sturdy engines, such as a '66 Fairlane with a 351 Cleveland that he put in it, a near-original 1970 Mustang Mach 1 with a Cleveland, and his first car was a '66 Mustang with a 200 six-banger in which he won a dragstrip trophy.
He was really good with machinery. High school metal shop with metal lathes was his best class. Someone once brought him a disassembled 1950s 3-speed gearbox and he figured out how to put it together and it worked great when he installed it. At a car dealership he replaced a car's rear ring gear in half the time the blue book gave, and it worked perfectly.
When he got interested in Jeeps, the mechanical workings were both fascinating and easy for him. If you've seen him in the 'T90 rebuild' video, you realize that quickly.
In the Air Force, he was in Air Freight. They loaded the big planes headed for 'Nam. He could tell you how many F4s that a C5A could carry. In winter when they weren't busy they liked to drive forklifts onto the icy runway and spin them around.
He always liked dogs and cats. Particular toward German shepherds but a good friend to all dogs and cats. He learned how to speak 'dog', explaining that there were several different barks used by dogs to communicate. Friendly hello, I'm lonely, I'm hungry, I hear something that needs investigating, danger, etc. He once had a job that required air travel and saw some military K9s in an airport, sitting at attention with their handlers. He gave the dogs the 'hello' bark and the dogs started wagging their tails and being playful. The handlers were amazed; they said they had never seen the dogs do that. Joe said he just said hello to them in their own language. He taught the handlers some other barks while he was there; they had a fine time waiting for the plane.
After the great love of his life had dated him for a few months, she wanted to meet his parents and see who had raised this incredible man. She knew right away he was a keeper. amen to that. We'd all liked to have kept him for several more decades here but God had other plans.
Wherever the Jeep garage is in Heaven, GPJoe is there.
1972 at home about 1970
First Jeep -- 1944 Willys about 1974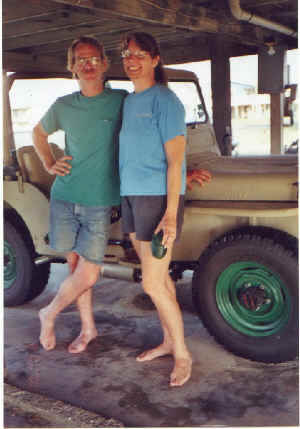 at the beach -- around 1998 training Loki and Thor -- around 1975