The GPW
Description of how it was when I got it, and what was done to get it on the road. The first time. Unfortunately, there won't be a next time, at least not for the frame.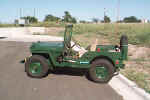 I'm leaving this on the site just for "reference".
Into the rebuild, then UH_OH!
Major disappointment.

There are links to pictures of a 1942 slatgrill frame that was going to be a replacement on this page.